Fernando Alonso
From Formula Rejects Wiki
Fernando Alonso Díaz (born 29th July, 1981 in Oviedo, Asturias, Spain) is a Spanish former Formula One driver who is also currently the team principal of the Fernando Alonso Speed Team. He is the 2005 Formula One World Champion.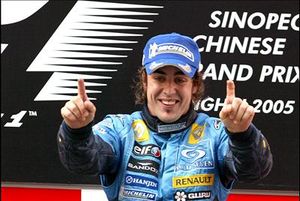 Alonso's Formula One debut came in 2001at the hands of the Benetton Arrows team alongside fellow young gun Jenson Button. Despite the pair's enthusiasm and hunger, the Arrows failed to match their young driver's desires in their final season and Alonso was only able to take a single point all season.
Alonso and Button remained together in 2002, albeit with a new outfit following the rebranding of Arrows to Renault. Alonso began to get comfortable in his new environment, taking several points finishes in the early stages of the season - his best being a pair of fourth places in Austria and Canada. Alonso would also upset the timing sheets by taking an unexpected fastest lap on the streets of Monte-Carlo on his way to sixth. Fernando Alonso would finish his sophomore season in F1 in a much improved seventh position in the WDC.
Button would vacate the team following a bust-up with team principal Flavio Briatore in the 2003 off-season, meaning Alonso would be joined by ex-Jaguar driver Mark Webber. Alonso's season got off to a great start, taking a career best second position (and another fastest lap) in the opening race of the season in Australia behind McLaren's James James Davies. He'd follow this with a third place finish in Malaysian Grand Prix. Alonso would not taste the champagne on the podium for several races, before returning with a third at the European Grand Prix and following Webber home for Renault's first 1-2 finish at the German Grand Prix. Alonso would miss Italy due to the Michelin boycott, before returning to the podium in Brazil with a second place. The Spaniard would go one better in the United States Grand Prix, converting a career-first pole into a win. He'd follow this win up with another in the season-ending Japanese Grand Prix, a race in which Alonso had a long battle with Michael Schumacher.
Alonso struggled in the shortened 2004 season, with the dominating Ferrari team effectively cleaning up for most of the year. Alonso did manage one win in 2004, winning the United States Grand Prix for a second time on his way to eighth in the championship.
2005 saw Alonso be joined by young Finn Kimi Räikkönen in what was set to be the most wide-open championship in many years, with Renault, McLaren, Ferrari, Williams and Toyota all bringing very strong packages. Alonso's first win of the season came in his home country of Spain, but he'd not win another until Brazil some twelve races later. The lead of the championship switched almost race by race - with Alonso, Räikkönen, James James Davies, Rubens Barrichello and Daniel Melrose all heading into the final round in China. The lead switched often in this frantic race but eventually Alonso capitalised on a last-lap error from Kimi Räikkönen to secure Alonso his first and only F1 World Driver's Championship, with some pundits in the Spanish media dubbing the race El Milagro de Shanghai.
Mere weeks after securing the World Championship, Alonso was revealed as Honda's lead driver alongside Takuma Sato in their first season as an outright manufacturer since taking over the BAR team. Although no figures were released, it is believed that Alonso's four year deal made him the highest paid driver in Formula One at the time. Unfortunately for Alonso he was not able to challenge for a repeat, as the RA106, whilst a competitive car and a significant improvement over the last BAR car, was not capable of challenging for wins on merit. Alonso's best result was a second place in the Hungarian Grand Prix.
Initial testing for the 2007 season was not looking particularly promising either - with some within the Honda setup refering to the RA107 as a "dud". The car was launched as the carbon-neutral 'Honda Earth Car' - with the team revealing Australian Frank Zimmer as the second driver alongside Alonso. As predicted, Alonso and the team had a huge drop in form and ended up finishing the year in thirteenth with only a handful of points finishes.
Alonso's 2008 wasn't much better - his only real highlight being a third place in the attrition-hit United States Grand Prix. Alonso finished the season in thirteenth once again, with little hope going into the final year of his contract.
Complete Formula One Grand Prix results
Year
Entrant
Chassis
Engine
1
2
3
4
5
6
7
8
9
10
11
12
13
14
15
16
17
18
19
20
21
22
23
24
25
26
27
28
29
30
31
32
33
34
35
36
37
38
WDC
Points
2001
Mild Seven Benetton Arrows
Arrows A22
Renault RS21 3.0 V10
AUS
8
MAL
10
BRA
12
SMR
Ret
ESP
10
AUT
6
MON
Ret
CAN
10
EUR
14
FRA
Ret
GBR
10
GER
Ret
HUN
Ret
BEL
DNS
ITA
9
USA
Ret
JPN
Ret
16th
1
2002
Mild Seven Renault F1 Team
Renault R202
Renault RS22 3.0 V10
AUS
7
MAL
7
SMR
Ret
ESP
Ret
AUT
4
MON
6
CAN
4
EUR
6
FRA
Ret
GBR
5
GER
6
HUN
5
BEL
6
ITA
Ret
BRA
7
USA
6
JPN
5
7th
17
2003
Mild Seven Renault F1 Team
Renault R23
Renault RS23 3.0 V10
AUS
2
MAL
3
SMR
Ret
ESP
Ret
AUT
7
MON
Ret
CAN
6
GBR
5
EUR
3
GER
2
HUN
Ret
ITA
DNA
BEL
11
BRA
2
USA
1
JPN
1
4th
65
2004
Mild Seven Renault F1 Team
Renault R24
Renault RS24 3.0 V10
AUS
8
MAL
9
BHR
Ret
MON
8
CAN
Ret
USA
1
CHN
Ret
BRA
3
ARG
Ret
KOR
C
JPN
Ret
8th
18
2005
Mild Seven Renault F1 Team
Renault R25
Renault RS25 3.0 V10
AUS
3
MAL
5
BHR
4
SMR
3
ESP
1
MON
Ret
EUR
Ret
CAN
2
USA
DNS
FRA
6
GBR
2
GER
7
HUN
7
TUR
5
ITA
3
BEL
Ret
BRA
1
URU
2
JPN
Ret
CHN
1
1st
92
2006
Lucky Strike Honda Racing F1 Team
Honda RA106
Honda RA806E 2.4 V8
BHR
4
MAL
4
AUS
Ret
BEL
5
EUR
6
SMR
9
MON
4
ESP
3
GBR
9
CAN
3
USA
Ret
FRA
6
GER
4
HUN
2
TUR
4
ITA
Ret
BRA
DNS
URU
10
JPN
10
CHN
7
6th
57
2007
Honda Racing F1 Team
Honda RA107
Honda RA807E 2.4 V8
BHR
8
MAL
11
AUS
Ret
JPN
13
SMR
14
GER
7
ESP
5
MON
Ret
CAN
14
USA
12
GBR
10
EUR
Ret
FRA
Ret
HUN
14
TUR
8
ITA
16
BEL
10
CHN
7
URU
10
BRA
10
13th
10
2008
Honda Racing F1 Team
Honda RA108
Honda RA808E 2.4 V8
BHR
7
MAL
Ret
AUS
6
JPN
12
TUR
12
EUR
10
MON
9
CAN
11
USA
3
FRA
13
GBR
9
GER
7
HUN
7
ESP
14
BEL
Ret
ITA
13
SIN
14
CHN
Ret
URU
10
BRA
7
13th
17
2009
Scuderia Ferrari Marlboro
Ferrari F60
Ferrari 056 2.4 V8
BHR
Ret
AUS
7
MAL‡
8
USA
Ret
JPN
16
ESP
Ret
TUR
18†
EUR
Ret
MON
4
GBR
15
IRE
1
GER
1
BEL
Ret
ITA
5
HUN
5
SIN
2
CHN
3
BRA
10
URU
Ret
ABU
6
5th
53.5
2010
Scuderia Ferrari Marlboro
Ferrari F10
Ferrari 056 2.4 V8
BHR
1
2
BHR
2
2
USA
1
5
USA
2
1
JPN
1
2
JPN
2
Ret
AUS
1
Ret
AUS
2
Ret
TUR
1
2
TUR
2
3
EUR
1
4
EUR
2
5
MON
1
3
MON
2
8
GBR
1
4
GBR
2
4
IRE
1
7
IRE
2
7
GER
1
1
GER
2
4
ESP
1
7
ESP
2
3
ITA
1
4
ITA
2
6
HUN
1
DSQ
HUN
2
7
SIN
1
1
SIN
2
1
KOR
1
8
KOR
2
12
BRA
1
1
BRA
2
4
URU
1
10
URU
2
Ret
ABU
1
14
ABU
2
5
3rd
385
2011
Scuderia Ferrari Marlboro
Ferrari F150
Ferrari 056 2.4 V8
BHR
1
Ret
BHR
2
Ret
USA
1
1
USA
2
9
JPN
1
2
JPN
2
2
KOR
1
4
KOR
2
1
TUR
1
3
TUR
2
Ret
ESP
1
18
ESP
2
Ret
MON
1
EX
MON
2
EX
GBR
1
1
GBR
2
16
IRE
1
3
IRE
2
Ret
EUR
1
18
EUR
2
GER
1
GER
2
HUN
1
HUN
2
ITA
1
ITA
2
URU
1
URU
2
BRA
1
BRA
2
SIN
1
SIN
2
IND
1
IND
2
ABU
1
ABU
2
11th
162
2012
Renault F1 Team
Renault R31
Renault RS27-2012 2.4 V8
BHR
1
BHR
2
MAL
1
MAL
2
JPN
1
JPN
2
KOR
1
KOR
2
TUR
1
TUR
2
EUR
1
EUR
2
MON
1
MON
2
GBR
1
3
GBR
2
7
CAN
1
6
CAN
2
Ret
USA
1
9
USA
2
22
GER
1
Ret
GER
2
8
ESP
1
12
ESP
2
22
ITA
1
Ret
ITA
2
4
ABU
1
4
ABU
2
Ret
IND
1
7
IND
2
8
URU
1
20
URU
2
14
BRA
1
7
BRA
2
18
SIN
1
5
SIN
2
Ret
16th
85
2014
Canon WilliamsF1
Williams FW36
Mercedes PU104A 1.6 I4t
BHR
1
2
BHR
2
10
MAL
1
2
MAL
2
3
BRA
1
2
BRA
2
Ret
MEX
1
2
MEX
2
1
USA
1
Ret
USA
2
5
CAN
1
Ret
CAN
2
4
GBR
1
Ret
GBR
2
Ret
ESP
1
8
ESP
2
Ret
AUT
1
4
AUT
2
4
TUR
1
Ret
TUR
2
8
GER
1
Ret
GER
2
1
POR
1
2
POR
2
Ret
ITA
1
Ret
ITA
2
7
ABU
1
16
ABU
2
3
IND
1
1
IND
2
2
CHN
1
Ret
CHN
2
Ret
KOR
1
8
KOR
2
1
JPN
1
Ret
JPN
2
1
SIN
1
3
SIN
2
Ret
3rd
383
2015
ING WilliamsF1 Mercedes
Williams FW37
Mercedes PU104A 1.6 I4t
BHR
1
1
BHR
2
2
MAL
1
Ret
MAL
2
C
BRA
1
11
BRA
2
5
MEX
1
2
MEX
2
4
USA
1
2
USA
2
2
CAN
1
3
CAN
2
Ret
GBR
1
17
GBR
2
Ret
GER
1
15†
GER
2
Ret
ESP
1
Ret
ESP
2
1
RUS
1
Ret
RUS
2
10
AUT
1
1
AUT
2
5
ITA
1
3
ITA
2
7
CPR
1
1
CPR
2
4
ABU
1
6
ABU
2
1
IND
1
2
IND
2
1
JPN
1
14
JPN
2
4
KOR
1
2
KOR
2
2
SIN
1
2
SIN
2
2
CHN
1
10
CHN
2
4
3rd
472
2016
CEPSA Red Bull Racing
Red Bull RB12
Ferrari Type 059 3.0 V10
BHR
1
5
BHR
2
2
IND
1
Ret
IND
2
5
BRA
1
2
BRA
2
4
MEX
1
4
MEX
2
7
PAC
1
8
PAC
2
3
CYP
1
12
CYP
2
6
HUN
1
7
HUN
2
10
GER
1
Ret
GER
2
Ret
GBR
1
10
GBR
2
20
RUS
1
5
RUS
2
Ret
AUT
1
2
AUT
2
3
ITA
1
5
ITA
2
Ret
EUR
1
1
EUR
2
6
ESP
1
4
ESP
2
6
USA
1
6
USA
2
6
ABU
1
11
ABU
2
7
SIN
1
DSQ
SIN
2
6
JPN
1
Ret
JPN
2
1
CHN
1
4
CHN
2
Ret
7th
299
2017
CEPSA Red Bull Racing Ferrari
Red Bull RB13
Ferrari Type 059 3.0 V10
USA
1
6
USA
2
21
JPN
1
Ret
JPN
2
2
IND
1
14
IND
2
14
BHR
1
13
BHR
2
Ret
CYP
1
12
CYP
2
15
HUN
1
EX
HUN
2
19
GER
1
9
GER
2
Ret
GBR
1
Ret
GBR
2
20
AUS
1
7
AUS
2
Ret
PAC
1
Ret
PAC
2
13
MEX
1
9
MEX
2
Ret
AUT
1
12
AUT
2
15
ITA
1
11
ITA
2
11
EUR
1
8
EUR
2
11
ESP
1
11
ESP
2
11
ABU
1
16
ABU
2
20
RUS
1
C
RUS
2
C
BRA
1
11
BRA
2
12
CHN
1
10
CHN
2
12
20th
41
2018
Shougang WilliamsF1
Williams FW40
Ferrari Type 060 3.0 V10
USA
1
USA
2
JPN
1
JPN
2
BHR
1
BHR
2
TUR
1
TUR
2
CYP
1
CYP
2
MED
1
MED
2
GER
1
Ret
GER
2
5
FIN
1
FIN
2
RUS
1
RUS
2
SIN
1
SIN
2
AUS
1
AUS
2
GBR
1
GBR
2
FRA
1
FRA
2
NED
1
NED
2
HUN
1
HUN
2
ABU
1
ABU
2
CHN
1
CHN
2
MEX
1
MEX
2
BRA
1
BRA
2
26th
6